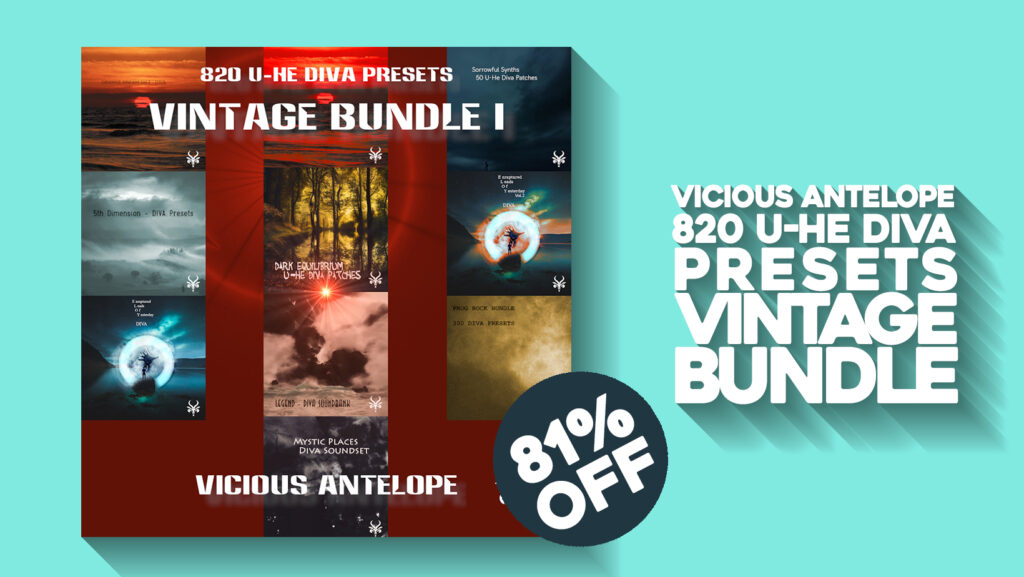 EXCLUSIVE. 81% OFF.
Vintage Bundle For U-he Diva by VICIOUS ANTELOPE
820 DIVA PRESETS
Multiple Genres
Software Requirements: U-He Diva
Full Price : $106 ,
Sale Price : $19.95 
Savings : $86
Vintage Bundle I for U-He Diva synth is a collection of 820 presets with vintage sonic character. This bundle is a complete synth suite and contains a variety of different types of synths. From bass frequency dominant synths, classic pads, dark synths, vintage leads, organs, percussive keys, basses, airy synths, majestic poly synths and other.
They are a nice tool for vintage music production producers and composers and it fit for genres like cinematic, retro electronic, progressive rock, new age, sci-fi themed underscores and experimental forms of music expression.
Soundbanks included are:
Legend – 80 presets
Sorrowful Synths – 50 presets
Prog Rock Bundle – 300 presets
Mystic Places – 100 presets
Dark Equilibrium – 50 presets
5th Dimension– 30 presets
ELOY (Enraptured Leads Of Yesterday) – 60 presets
E.L.O.Y. Vol.2 – 50 presets
Orange Dream Vol.1 – 50 presets
Orange Dream Vol.2 – 50 Presets
Absolute no-brainer. For $19.95 you get 820 Diva patches.
Soundbanks included in Vintage Bundle
Legend
for U-He Diva synth contains 80 vintage analog presets inspired by old progressive rock and retro electronic music styles as well as some new age stuff. Tangerine Dream, Pink Floyd, Vangelis, Rush and The Who are some of the huge influences for the creation of this soundbank.
Here there are 5 different categories of sounds which makes it pretty much a generic preset pack for those genres. Long journeys category contains 10 pad synths and poly synth category contains 27 classic poly synths. There is the Rhythm – Arps section with 15 presets and 15 percussive almost synths in the Short Poly folder.
Finally, there is a new category named Bass Frequency Dominance. This is a style of polysynths that mainly dominate in the lower frequencies thus their sound is aggressive and dark. It contains 13 synth presets. There are going to be released many sounds – presets of this category for other synths also.
Here you could find both harmonic and inharmonic patches. While harmonic sounds are better for conventional synth performances the inharmonic ones are here to add some atmospheric dimension to your productions. My usual way of using those inharmonic sounds is to throw them to background and when needed enforce them to add interesting timbres and atmospheres in transitions parts as well as some main parts of my tracks. A nice example of "sweet" sounding inharmonic patch is the "Just Like That" pad or "Come In" polysynth. As the inharmonic element here is subtle it could easily be used for more classic performance. The ugly harmonics in this soundbank usually derive from sync of OSCillators with simultaneous pitch modulation, from ring modulation or from heavy modulation of the filter's resonance.
Sorrowful Synths
contains 50 vintage synth patches for U-He Diva synth. The main ingredient of those presets is the sad emotion they exhale with retro sonic vibes.
For some patches there is a subtle glide to add some emotional movement in the starting point of the sound. In some of them like the 3 first ones, you could easily listen to some characteristics of the era their name refers. I used every oscillator engine available in DIVA for adding a variety of sonic elements and colors in the whole soundbank. A nice experimentation can be to changing the Oscillator engines for some nice and unexpected variations.
All presets are classic polysynths in terms of performance – they could easily handle the speed you play them, from slow to quick. Others sound darker, others have a more calming nature and other have a nice tail deriving from the delay device.
Mainly those sounds could fit for cinematic, game audio, rock and vintage electronic styles but I think that they could find their place in other genres also, when the addition of some vintage originate sound with a sorrowful feeling is something you look for.
For all patches the MW is assigned to add vibrato
Prog Rock Bundle
for DIVA is a collection of 4 soundbanks for a total of 300 vintage sounding presets.
It is a full package focused on Progressive Rock genre but it could also be used for Cinematic music as well as for Electronic productions especially those with dark sound character and those which rely on warm analog sounds.
Prog Rock is a generic journey through the Golden Era of music and it consists of 25 Synths, 20 Long synths, 20 Leads, 15 Basses and 5 Airy Synths.
Prog Rock 2 is focused on two opposite sides of synth sounds with 50 Huge synths and 50 Soft synths.
Prog Rock 3 is even more focused with 70 patches that dive into the early 70s soundcolors and it is full of nostalgia.
Finally, Prog Rock 4 contains 30 organ sounds that fit with all the other Prog Rock packs and fills the blanks to create a multidimensional collection dedicated to the genre.
Mystic Places
is a 100 patches soundset for DIVA made with the DUAL VCO and the Digital Envelopes which are inspired from some legendary synths of the past. As the name implies this soundset is a sonic dive into mysterious, dark and dramatic dimensions.
It contains 71 poly synths and 29 legato leads with vintage character ready to add analog goodness to your productions. In most patches the pan is modulated by Stack Index to add a wider dimension and place the synth voices in different positions.
MW assigned to vibrato and Aftertouch to pitch modulation.
Dark Equilibrium
contains 50 polysynth patches for U-He Diva synthesizer. With a dark and powerful majestic sound, the dark equilibrium synth patches are perfect for cinematic music, progressive rock and electronica. Heavy on the bass, these presets give a versatile range of sounds for U-he Diva synthesizer in a gloomy way.
In this soundbank all available synth oscillator types of Diva was used as well as many types of filters and envelopes. One of the common effects for almost all patches is a chorus to give some extra dimension to the overall sound.
From dark, full sounds to haunting melodies and aggressive rock / metal synths
A rich palette of unlit sonic textures that are organic or synthetic
Best suited to music genres such as dark electronic, cinematic, progressive rock and heavy metal.
The use of the Oscillator Voice Detune module of U-He Diva has a very important role to the resulting sound of the presets and the stack tune of each voice is also in different positions.
With mod wheel you could add vibrato while Aftertouch is modulating the pitch in different ways depending on the Osc synth type it is used.
5th Dimension
for DIVA synth contains 30 fat leads with analog sound. It is perfect for Techno and other electronic music productions. All presets are made with the infamous Triple VCO using Ladder as filter.
MW assigned to vibrato and AT to pitch modulation.
ELOY (Enraptured Leads Of Yesterday)
preset pack for DIVA is a 60 magical vintage leads pack, inspired by one of my favorite German progressive rock bands.
Those sounds fit great to atmospheric music of a variety of genres like prog rock, prog house, electronic music, techno, prog metal etc.
E.L.O.Y. Vol.2
is a deep dive into the seventies progressive and space rock synth leads. Inspired by one of my favorite bands ever it contains 50 DIVA lead presets.
The patches sound very 70s with heavy analog flavor and suit for progressive rock style as well as other genres and productions that are rely their beauty on analog vintage sounds.
Orange Dream Vol.1
is the first 50 presets DIVA soundbank in our new series inspired by one of my biggest influences in music and pioneers of electronic music. This pack consists of 30 short synths and 20 mono basses. MW and AT are assigned to vibrato and pitch quest respectively.
Those early electronic music sounding patches can find their way even to modern productions with their beauty and versatility
Orange Dream Vol.2
consists of 50 vintage sounding presets for uHe DIVA synth. It continues the previous Orange Dream Vol.1 soundbank and it is heavily influenced by one of the most iconic bands ever existed. All 50 presets are polysynths with MW and AT attached mainly to vibrato and Resonance respectively.
Nostalgic sounds derived from the golden past decades of the long tracks, the spacey melodic lines and the producing approach of that time that could emerge the deepest emotions with its warmness.
A great journey through that wonderful period for music and its lovers.
—
Presets were designed with Diva 1.4.4 (Rev.9709) and run best with this or newer edition.
FEATURES:
820 U-He Diva Presets

Software Requirements:

U-He Diva 1.4.4

Note: Please be aware you will be required to visit an external website in order to create an account, redeem and download your product. We do not host the download at VSTAlarm.