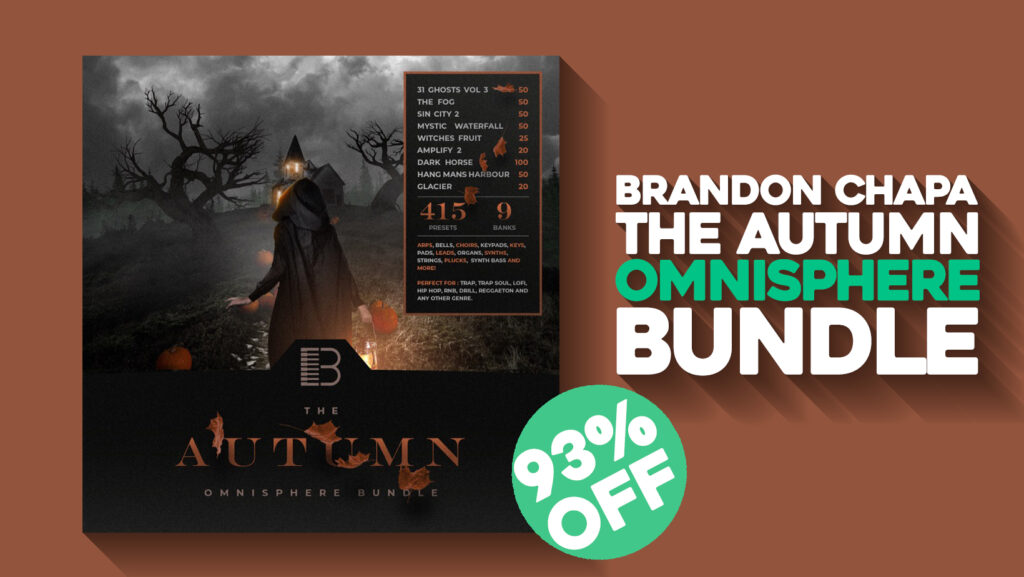 Black Friday Deal.
Omnisphere Bundle By Brandon Chapa.
The Only Omnisphere Bundle You'll Need This Season!
Brandon is very excited to announce a bundle of Omnisphere banks that are perfect for when
the leaves start to fall.
This Bundle contains 9 Full Omnisphere 2 Banks with over 400 Custom Omnisphere
Patches. Perfect for any modern style of productions such as : Drill, Trap, Lo-fi, RnB, Hip Hop,
Trap Soul, Reggaeton, Pop, EDM and more.
Sale Price $19.95
Normal Price $284.91
02
days
03
hours
23
minutes
27
seconds
No-brainer if you have the Omnisphere
The Autumn Omnisphere Bundle
The patches in this bundle have been made by Brandons care to give you a dark and ominous
type of sound but still inspirational.
The kits in this bundle were inspired by: Yeat, Pop Smoke, Lil Baby, Ice Spice, Playboi Carti,
Juice WRLD, Young Dolph, Keyglock, 808 Mafia, Wheezy, Bad Bunny, Karol G, Billie Eilish,
Post Malone, 21 Savage, Rod Wave, Travis Scott, Cardi B, Offset, The Weeknd, Yng Lvcas,
Young Thug, Drake and many more.
Grab your copy before the winter comes!
Product Includes:
– 9 Omnisphere 2 Banks (31 Ghosts Vol.3, Glacier, Hangmans Harbour, Sin City ll, Witches Fruit, Dark Horse, Mystic Waterfall, Amplify 2, The Fog)
– 400+ Omnisphere Patches (Arps, Bells, Chords, Choirs, Guitars, Keys, KeyPads, Leads,
Plucks, Strings, Synths, Organs, Synth Bass, Flutes)
– Royalty Free
– Omni Files Includes For Each Bank For Easy Install
– Easy Install Instructions
– Requires Omnisphere 2.4 – 2.8.1 or the latest version
– Mac or PC
– Zipped – 5.7 MB
– Unzipped – 34.7 MB
– Total Value $284.91
FEATURES:
– 9 Omnisphere 2 Banks (31 Ghosts Vol.3, Glacier, Hangmans Harbour, Sin City ll, Witches
Fruit, Dark Horse, Mystic Waterfall, Amplify 2, The Fog)
– 400+ Omnisphere Patches (Arps, Bells, Chords, Choirs, Guitars, Keys, KeyPads, Leads,
Plucks, Strings, Synths, Organs, Synth Bass, Flutes)
– Royalty Free
– Omni Files Includes For Each Bank For Easy Install
– Easy Install Instructions
– Requires Omnisphere 2.4 – 2.8.1 or the latest version
– Mac or PC
– Zipped – 5.7 MB
– Unzipped – 34.7 MB
– Total Value $284.91
02
days
03
hours
23
minutes
27
seconds