Only $9.95
NNAudio SubFlux BASS Module. (VST3/AU)
Original Price ($49.95 )
Deal Price $9.95 TODAY
$40 In Total Savings
OFFER ENDS SOON
Traverse The Sonic Wasteland & Create An Audible Dystopia
Unleash A Cataclysmic Bass Force
Shake The Very Foundation Of Your Compositions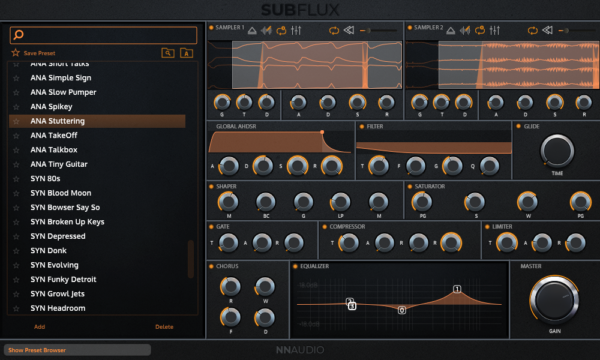 Ignite Your Bass Productions With An Apocalyptic Twist
Create intense and gritty compositions that embody the chaos and energy of an impending cataclysm. Craft thunderous basslines that rumble and roar, evoking a sonic landscape teetering on the brink of devastation. Unleash a fusion of growling bass, distorted textures, and pulsating sub frequencies, as you explore the dystopian depths of sound design and shape a sonic world on the edge of collapse. Brace yourself for an audible journey that pushes the boundaries of bass-driven music. Drag-&-Drop Your Own Samples Over 100 Included Samples
Walkthrough + Presets Demo
Dual Samplers with Drag-&-Drop capabilities allow you to Blend, Loop & Edit your own samples.
Full FX Suite including Shaper, Saturator, Chorus & Equalizer.
Over 100 Included Bass Samples from Analog & Digital Sources.
Windows 10+ | Mac Mojave 10.14+
8GB RAM | 500MB Disk Space
Installer: 66MB | Samples: 73.6MB
WIN: EXE | MAC: DMG
Sample Archive.zip
Compatible with all DAWs except Pro-Tools
BASS MODULE (VST/AU)
Note: Please be aware you will be required to visit an external website in order to create an account, redeem and download your product. We do not host the download at VSTAlarm.