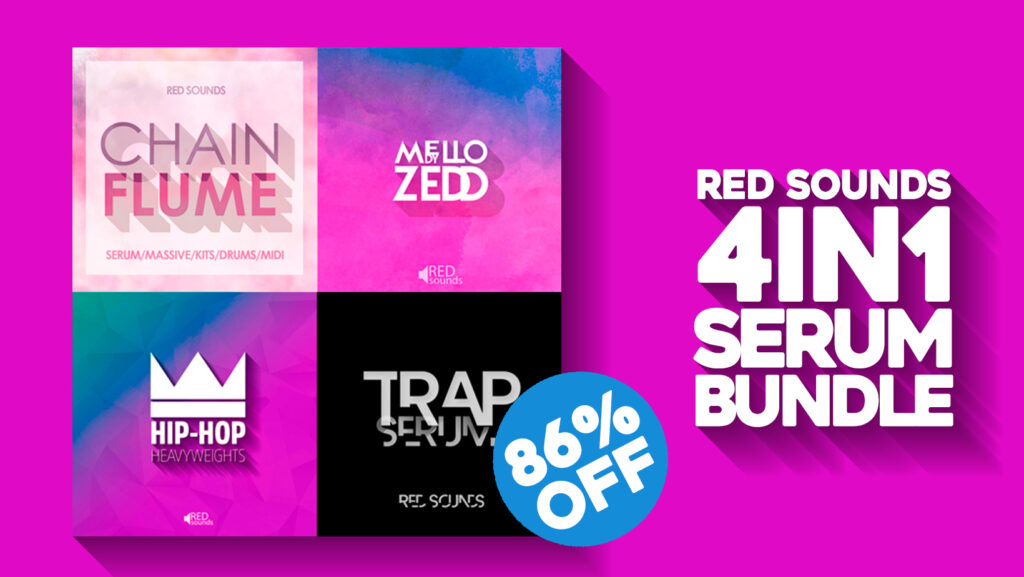 351 Really Nice Serum preset for $11.95
4in1 SERUM BUNDLE By Red Sounds.
GENRES: FUTURE BASS/TRAP, HIP-HOP, POP, EDM. 
GRAB A CHANCE TO GET ALL RED SOUNDS SERUM PACKS FOR ONLY $11.95!
YOU WILL GET 351 SERUM PRESET + 400 DRUM SAMPLES.
Trap Serum
Meloddyzed
Chainflume
Hip-Hop Heavyweights
Bonus Drum samples
Bonus Hip-Hop Cthulhu pack
NEW EXTRA HOT TRAP SERUM PRESETS
Must have, if you want to stay competitive in today's Trap/Hip-Hop/EDM.
I can feel your frustration when you are browsing through hundreds of mediocre presets and can't find anything really inspiring.
But it will not happen with this pack. Trap Serum contains more than enough top quality presets and samples to keep you producing and working with its potential for hours.
There are high quality, unique Serum presets for EDM Trap in style of Flosstradamus, Troyboi, UZ, NGHTMRE etc… and also Hip Hop/Trap in style of Metro Boomin, Mike Will Made It and so on and so on…
Also Trap drum kit was exclusively made for this soundbank.
Plus there are 5 Construction Kits from the demo with corresponding MIDI files, so you can change track elements easily…
All sounds from the demo are included and almost all of them were made with these serum presets with additional processing here and there, also many sounds are stacked.
ALL IN ONE SOLUTION FOR MAKING INDUSTRY QUALITY TRAP TRACKS.
Pretty essential soundpack for making great trap music!
YOU WILL FIND INSANE AMOUNT OF INSPIRATION INSIDE:
CATCHY BASES

PUNCHY CHORDS,

FAT 808S,

MEMORABLE LEADS

TIGHT DRUMS
There are many signature trap sounds like Prison Riot horn or TroyBoi lead… also a lot of new creative and inspiring stuff made by trials and errors..
Majority of sounds are basses and leads because these elements are  essential in trap music.
There are several fat hybrid brass presets. These presets were made by combining real instruments with synthesized ones.
HOW THE PACK WAS MADE:
I did a research on Trap packs for Serum and didn't find sounds I wanted. There are some good Serum packs on the market, but majority of the soundsets are mediocre and the presets are similar to each other.. So I decided to make All in One Trap pack for Serum.
After 3 month of hard work I ended up with 140 presets, but as a producer myself I know how much I hate mediocre presets, so I removed all unnecessary sounds/fillers that I would not use in my production and there are only gems left.
4 MACRO CONTROLS
All presets have 4 macro controls adjusted to control most important parameters easily. Actually, some of the macro controls can change the sound pretty drastically, so you can make your own unique sounds in three knob turns.
Of course, you can make much more than Trap with these presets. With little bit of tweaking they will perfectly fit Hip-Hop, EDM, Pop, Future Bass, House, Dubstep and other modern genres.
SPECIFICATIONS: 
88 Serum Presets ( Bass – 20, Chords – 4, FX – 5, Hybrid Brass – 9, Keys – 10, Leads – 28, Pads – 5, Plucks – 6, Synth – 1)
5  Construction Kits
23 Drum Samples +153 Bonus
20 MIDI
Serum 1.113  required
100% ROYALTY FREE
BONUS
As a bonus you will get OVO Inspired Drums pack.
This pack will fit many genres.
MAKE FUTURE BASS AND TRAP HITS WITH EASE
Red Sounds, the creators of chart topping Kontakt instrument Vox Engine and pretty popular OVO collection now are back with biggest and most ambitious package. We were working really hard on this soundset to bring you only best sounds possible and after months of shaping and tweaking we can proudly present  – Chainflume.
As you can see from the title, this genre bending pack was inspired by artists like The Chainsmokers and Flume, but also influenced by San Holo, Cheat Codes, Dj Snake, and more.
This soundset is made for Future Bass and Trap producers, but definitely can be used for other genres like Future RNB, Hip-Hop, Pop and so on..
INSIDE YOU WILL FIND:
70 SERUM PRESETS
These hand crafted Serum presets will help you to dive into Future Bass genre quickly without a need of searching for the right sounds for hours.
Some sounds were recreated pretty accurately, but majority of presets were made to inspire you to make The Chainsmokers of Flume type tracks.
You will find many Future Bass essential presets and inspiring creative stuff. A lot of wobble and sidechained chords, dark Flume style chords, Chainsmokers style leads…Custom made noise samples were used to sound more unique.
Also, there are Dj Snake style vocal chops which migrated from Vox Engine and were tweaked to fit in Serum.
All presets have 4 macro controls adjusted to control most important parameters easily.
20 (+73 BONUS) MASSIVE PRESETS
20 presets were created for this pack exclusively and other bonus presets were selected from our previous soundsets. There are many 808 and Bass presets especially beneficial for Trap/Hip-Hop producers.
CONSTRUCTION KITS
These are 4 construction kits from the demo + 1 bonus kit and also some bonus loops.
Almost all sounds from these kits were created using Serum and Massive presets from this pack. Some sounds were additionally processed.
DRUMS
Chainflume Drum Kit (23 one shots) + 2 bonus drum packs (OVO Inspired Drums – 151 one shot and Urban Taste Drums – 207 one shots).
Chainflume drum kit contains custom made drums from the demo. These drums are not squashed so you will have room for additional effects.
Bonus packs will fit in Future Bass, Trap, Hip-Hop production nicely.
25 MIDI FILES
There are MIDI files from Construction Kits + some bonus chords.
All in all this soundset with bonuses contains more than enough to make killer Future Bass, Trap, POP tracks instantly.
SPECIFICATIONS: 
70 Serum Presets
20 Massive Presets + 73 Bonus
4  Construction Kits + 1 Bonus Kit+12 Bonus Loops
23 Drum Samples + 358 Bonus
25 MIDI
Serum 1.113 and Massive 1.5.0  required
100% ROYALTY FREE
GET AHEAD OF THE GAME WITH THE PREMIUM FUTURE BASS/FUTURE POP SOUNDS!
After working on Future Chords For Cthulhu and Future RNB & Hip-Hop Chords For Cthulhu we are back with a new Serum soundset.
As you can see from the title –  Mellodyzedd combines Marshmello and Zedd. It is not a big surprise, because these Producers/DJ's are on the top of their game right now!
But not only Marshmello and Zedd, this pack is also inspired by producers and DJ's like Grey and Slushii.
The point was not to recreate sounds exactly but to catch the vibe of this Future Bass and Pop EDM mixture.
This genre-bending pack contains 100 hand crafted Serum presets for Future Bass, Future Pop and EDM.
You will find a big variety of bass sounds, future chords, a lot of hybrid plucky sounds (marimbas, kalimbas, xylophones) vocal chops mixed with synths, cinematic keys and so on..
Presets contain a lot of custom made wavetables and noises.
This pack has all you need to get inspired and start a hot track in minutes.
ON TOP OF THAT AS A BONUS, WE ARE GIVING A BRAND NEW, PREVIOUSLY UNRELEASED DRUM PACK – FUTURE BASS AND FUTURE POP DRUMS.
We recorded and synthesised 168 one shots. Oomphy kicks, crunchy snares and a lot of percussion and foley samples.
These drums will give you a current, radio ready, Future Bass/Future Pop sound.
All drum sounds in the demo are from this drum pack.
SPECIFICATIONS: 
100 Serum Presets ( Bass – 17, Chords – 22, FX – 7, Hybrid Brass – 2, Keys – 4, Leads – 9, Pads – 2, Plucks – 22, Synth – 1, Vox – 14)
168 Drum Samples (Kicks – 20, Snares – 31, Claps and Snaps – 15, Percs – 35, Hi-Hats – 19, Foley – 30, FX – 18)
All presets have 4 macro controls adjusted to control the most important parameters easily.
Serum 1.214  required
100% ROYALTY FREE
93 INSPIRING HYBRID PRESETS FOR SERUM + BONUS FUTURE RNB & HIP-HOP CHORDS FOR CTHULHU
LATEST VERSION OF XFER SERUM IS REQUIRED TO RUN THESE PRESETS!
Take advantage of the next level Hip-Hop sounds. Hybrid Serum presets are bringing the best of analog and digital worlds.
The concept behind this pack was to create a modern, high quality and easy to use sounds with an analog twist.
These presets are inspired by the Industry heavyweights like Drake, Post Malone, Travis Scott, Meek Mill, J. Cole, Lil Nas X, Metro Boomin and others..
SMASHING 808S

CATCHY KEYS

HYBRID ANALOG SYNTHS

FAT CHORDS

DARK EMOTIONAL VIBES

CUSTOM HANDMADE WAVETABLES AND NOISES

BONUS CTHULHU PACK
Hip-Hop Heavyweights pack is based on the custom made analog sounds all made by the Red Sounds. We made noises and custom wavetables out of analog synths, so the pack has a lot of Lo-Fi and Synthwave elements. Combined with Modern 808s and keys + OVO style pads it is so easy to make crazy beats without much tweaking. The presets sounds dope right out of the box.
Every preset has 4 macros with most useful controls for the given preset.
The majority of the presets are made from handmade wavetables or noises.
The bonus pack fits well with the Serum presets and consists of 40 Cthulhu Presets and 40 Cthulhu Arp Presets.
THESE WILL BE YOUR GO-TO HIP-HOP PRESETS EASILY! JUST MAKE SURE YOU FIND THE SWEET SPOT FOR EVERY PRESET.
Pack Contents:
93 Xfer Serum Presets
Bonus 40 Xfer Cthulhu Presets
Bonus 40 Xfer Cthulhu Arp Presets
Total Number Of Files:
Software Requirements:
Latest version of XFER Serum REQUIRED!
Latest version of XFER Cthulhu REQUIRED!
Pulkit V.
Overall Great Soundset!
Gives a good starting point to begin sound design , infact some are good enough to use instantly in your songs!
It's like songwriting Caffeine
so many fun sounds to play around with, super happy with this pack
Loving the sounds
Just what I was looking for!
I really like it
It fits my every needs perfectly
The best sounds for your plug-ins !
Its awaesome
I got so much inspiration from this sample pack and presets a must have for making todays hot future bass
Awesome
so many sounds to choose from
Chainflume
I was attracted to this pack because I wanted some new drums, which this delivers for sure, then I started diving into the Serum patches, they come damn close to actual sounds used by "certain popular artists". And if it's just "that" certain sound and feel you are trying to expand on, these are a great starting point.
Current sounds, pretty good.
ChainFlume
Fits perfectly in most genres of music, especially todays Pop tunes.
Love it
Brings out the true power of serum
Wonderful
Presets are amazing highly recommend
Love it
Great pack to add to the sound library.
351 presets for Serum.
400 Drum Samples
Note: Please be aware you will be required to visit an external website in order to create an account, redeem and download your product. We do not host the download at VSTAlarm.