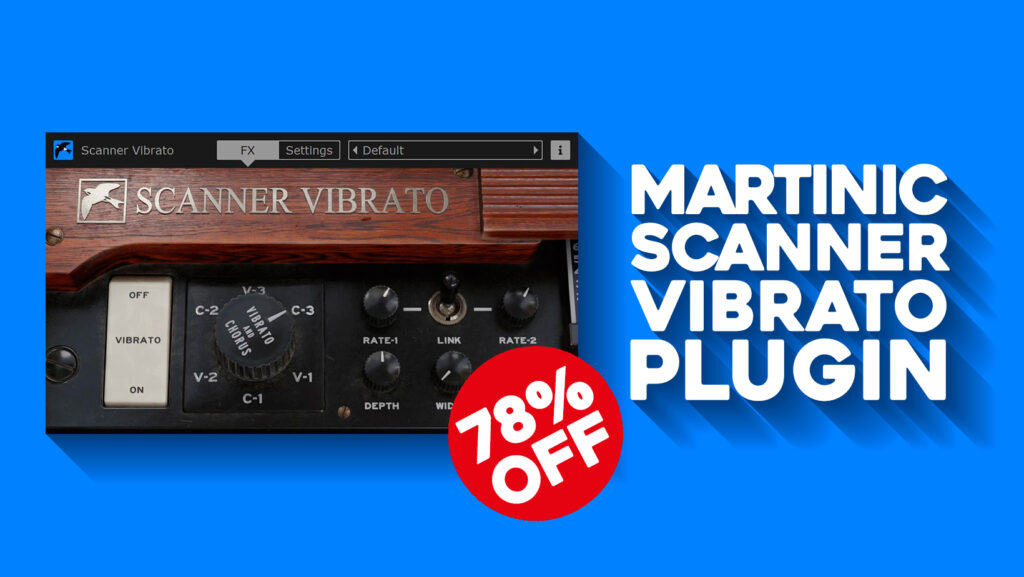 78% Off. 
Martinic Scanner Vibrato Plugin
Exactly like the real thing.
The newly updated Scanner Vibrato is a virtual effect plugin that precisely recreates the scanner-vibrato effect from the legendary tonewheel organ we all love. Now improved with our trademarked ACE® modeling technique,
Original Price ($39 )
Deal Price $9 TODAY
$30 In Total Savings
OFFER ENDS SOON
Overview
Martinic Scanner Vibrato is modelled closely on the original scanner-vibrato, so it offers the same features (and flaws), perfectly preserving the character of the original effect. However, Scanner Vibrato is more flexible; you can adjust the rate, depth, and even stereo width. And best of all, you can apply Scanner Vibrato not only to organ sounds, but also to guitar, synthesizer, or whatever sound you like.
Chorus/vibrato effect unit from well-known tonewheel organ
Improved ACE® technique model
Original C-1/C-2/C-3/V-1/V-2/V-3 depth/mix settings
Adjustable rate, depth, and mix
Optional stereo width with separate left/right rates
16 presets, from classic chorus/vibrato to rotary-like effects
Tempo sync
Output volume control
Windows 7+, macOS 10.9+
Note: Please be aware you will be required to visit an external website in order to create an account, redeem and download your product. We do not host the download at VSTAlarm.