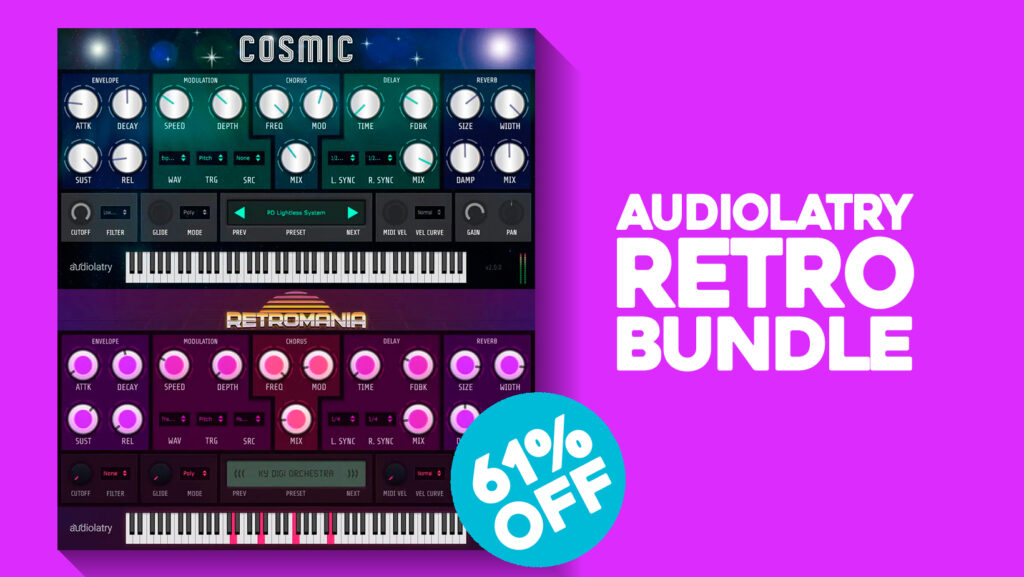 EXCLUSIVE 2 in 1 Audiolatry RETRO BUNDLE.
Audiolatry Retro Bundle is a collection of two Retro-inspired virtual instrument plugins exploring the 80s era with its iconic, bold and futuristic sound.
The bundle contains Retromania, a vibrant & blissful instrument featuring hit-ready presets reminiscent of the 80s Pop era, and Cosmic, a deep modern take at the 80s cosmic pads and lush sounds.
Introducing Retromania, the virtual instrument for creating 80s-inspired Pop, Synthpop, Disco, RnB, Hip Hop, EDM, and Lofi music.
With a sleek and intuitive interface, Retromania is designed to provide musicians and producers with the perfect set of tools to create authentic, vintage synth sounds reminiscent of the iconic pop music of the 80s and not only.
All the sounds were programmed in analog synthesizers, carefully sampled, and looped for a continuous play. audiolatry team tried to create and gather an essential collection of Retro bread & butter sounds – no filler sounds inside. Also, you will not find experimental & weird sounds inside, their goal was to bring a set of play-ready presets full of nostalgia and warmth.
Retromania includes a variety of classic synth sounds, including bright leads, warm synths, sparkling keys, lush pads, deep basses, and other exciting sounds. With a decent range of customizable parameters, users can easily tweak and tailor each sound to their liking, with options to adjust the LFO modulation, filter cutoff, ADSR envelope, and more.
The plugin also includes an array of built-in effects, such as chorus, delay, and reverb, to add even more character and depth to each sound.
Whether you're producing an 80s-inspired pop track or looking to add some retro flair to your contemporary music, Retromania is the ultimate tool for achieving that authentic vintage sound. So why wait? Get your hands on Retromania today and start creating the music of the future with a sound from the past!
Cosmic is a virtual instrument plugin featuring rich and lively Cinematic pads, complex textures, and deep ambiances.
Cosmic brings a total of 61 multi-sampled pads inspired by the sounds of retro & modern SciFi movies, by the greatness of the cosmos, the beauty of the planets, stars, and galaxies.
Sounds that could be if the cosmos were not silent – characterized by amplitude, movement and depth, but also drama, power, and grandeur.
This virtual instrument is perfect for your Cinematic tracks, sound design, EDM, soundbeds, background ambiance, sound fullness, etc.
Cosmic is available in VST, VST3 (Windows) and VST, VST3 & AU (macOS) plugin formats.
3.23 GB extracted size / 2.69 GB download size

186 multi-sampled presets

ADSR section

lowpass/highpass filter cutoff

LFO modulation section

voice mode & glide

velocity curve & MIDI velocity selectors

reverb module

chorus module

delay module

global gain & pan

100% royalty-free

VST/VST3 64-bit Windows & VST/VST3 & AU macOS