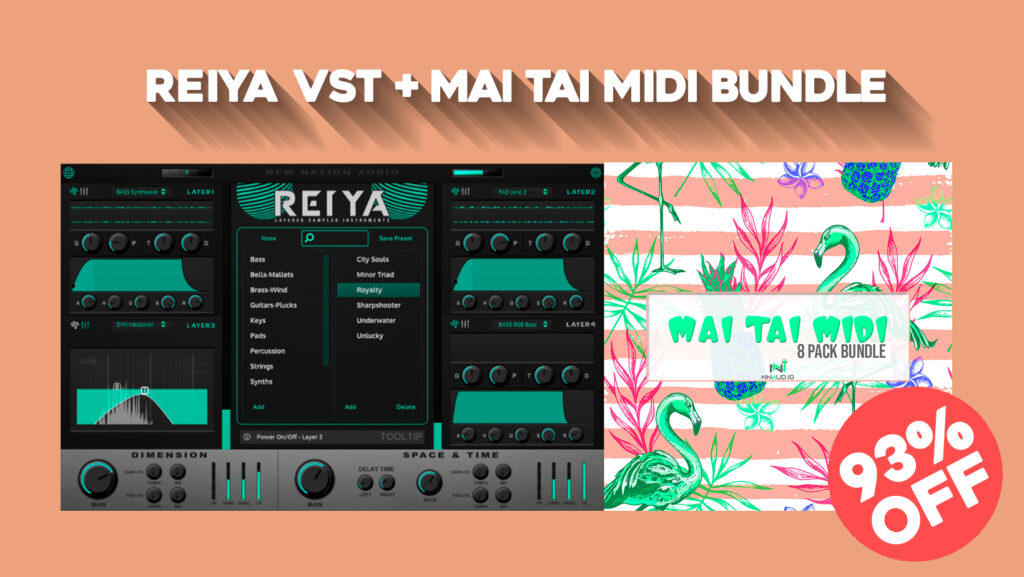 93% Off. Reiya VST + Mai Tai MIDI Premium Bundle
Original Price ($312.00)
Deal Price $19.95 TODAY
$292 In Total Savings
Reiya – Layered Sampled Instruments
DRAG-AND-DROP MIDI FILES THAT SOUND LIKE REAL INSTRUMENTS!
OFFER ENDS SOON
Absolute no-brainer. For $19.95 you get VST+8 packs and the gift cards…
Reiya is a Japanese word meaning "Layers" and is the perfect way to describe the best technique to use with this plugin. LAYERS ON LAYERS ON LAYERS! 4 of them to be exact. By allowing you to layer multiple sounds, you can have full control over your very own sound design and development! 
You know what that means…? 
YOU CAN BE EVEN MORE ORIGINAL & BE YOUR OWN SOUND DESIGNER!
Say "Hello" to your new favorite Sound Development Tool, Reiya – Layered Sampled Instruments.
Reiya is a Multi Sampler Engine that allows you to combine 4 total samples to create 1 unique sound. With nearly 200 total samples including Guitars, Synths, Wind Instruments, Percussion, Textures, Toys & more, you will have no trouble finding something to tweak, layer and make your own. With a smooth and easy-to-navigate interface, you will be creating your own unique style in a matter of minutes. Even if you're not in the mood or zone to create your own sounds, you will find Reiya loaded with over 200 original presets.
Mai Tai MIDI Bundle Plus Bonuses
8 MIDI Packs, 4 Exclusive Free Bonus Items.
Chillout & Vibe with the Mai Tai MIDI Bundle!
How is your MIDI Collection stacking up? It can always improve & I have the perfect MIDI Bundle for the job! The MAI TAI MIDI BUNDLE is hardly your average MIDI Bundle. I've jammed over 400 MIDI + WAV Files including Smooth Piano Chord Progressions, Bouncing Marimba Melodies & Tear-Jerking String Sections. I wanted you to be able create realistic instruments in a minimal amount of time.
The result?
DRAG-AND-DROP MIDI FILES THAT SOUNDS LIKE REAL INSTRUMENTS!
By hyper-focusing on 1 emotion and 1 instrument, I'm able to capture the real and raw feel of Horns, Strings, Pianos & more! This Real & Raw feeling then transfers to your music whenever you use one of my MIDI Loops. This does not mean these loops will only work for one instrument. I've found if you Mix & Match your MIDI to different instruments, the possibilities for creativeness never end!
How does it work? It's Easy:
-Download the MAI TAI MIDI BUNDLE
-Select an instrument in your DAW
-Drag & Drop any MIDI Loop on your instrument track
-PRESS PLAY
-watch the speakers and house burn down around you from the FIRE you just created…
That was a bit exaggerated, but you get the point!
Grab the MAI TAI MIDI BUNDLE today and you'll Save Major Money & Gain Major Production Value!
Packs Included:
Mai Tai MIDI – Brass
Mai Tai MIDI – Harp
Mai Tai MIDI – Keyboards
Mai Tai MIDI – Marimba
Mai Tai MIDI – Piano
Mai Tai MIDI – Plucks
Mai Tai MIDI – Rhodes
Mai Tai MIDI – Synths
BONUSES
4 Exclusive Bonus Items For FREE
Construction Kits, Drum Pack, Bass Pack + More
Bonus #1
Gain more inspiration with these 5 FREE Construction Kits included in your purchase! These kits contain both MIDI + Corresponding WAV Loops so you have full control over each production. With over 60 Bonus Files, you can constantly find something new to work with!
Let's add some extra flare and bounce to your new productions with this FREE & EXLCUSIVE drum pack! Inside you will find Hats, Claps, Snares, Kicks & Percs to enhance the very core of your tracks. These Drum & Percussion Samples have been designed to be the perfect side-kick to your new MIDI Bundle!
Now that your drums are on point, let's add some slap with these FREE EXCLUSIVE Bass Samples! These custom-made 808s & Synth Basses will add bounce & power to your productions! Keep in mind, just like the Drum & Percussion, these Basses were made specifically to help you get the most out of your new MIDI Bundle!
Bonus #4
Gift Card: New Nation Store
To help you add some more sounds to your library, here is a $25 gift card to our SHOP! This Gift Card is valid for all items on our SHOP Page (Drum Packs, Construction Kits, Preset Banks, MIDI Packs, etc) and our VST Page (All Plugins). The only items excluded are the items on our SALE PAGE (like this one here) as these are already heavily discounted.
Enormous Amount Of Goodies
FEATURES:
400 MIDI + WAV Files 

25 Gift Card In The New Nation's shop

Reiya VST Plugin

Bonus Drum Pack

Bonus 5 Construction Kits

Bonus Bass Pack

Note: Please be aware you will be required to visit an external website in order to create an account, redeem and download your product. We do not host the download at VSTAlarm.