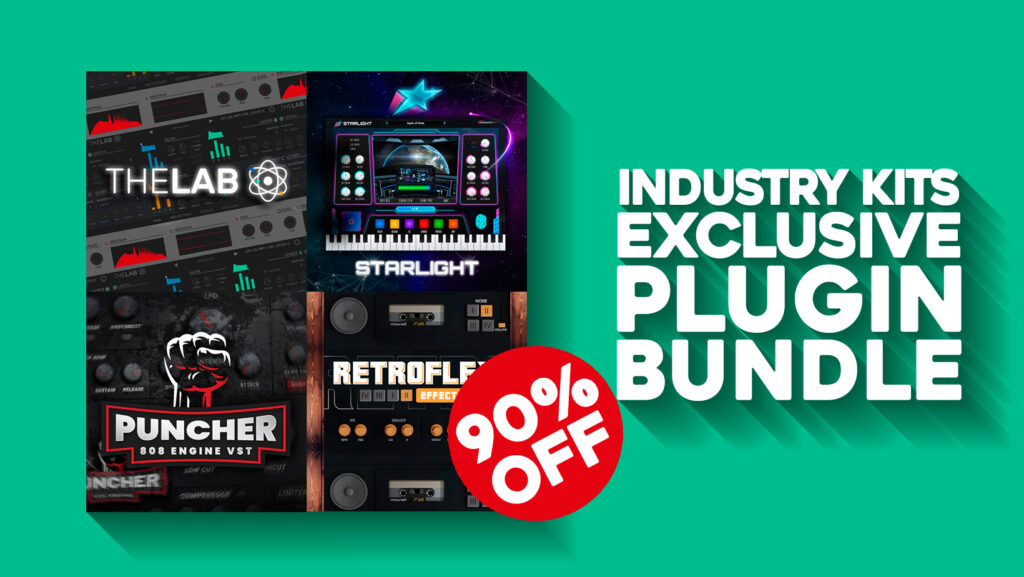 Exclusive Deal.
90% OFF.
4-in-1 Plugin Bundle By The Industry Kits.
The special offer includes 4 Industry Kits best plugins for only $24.95 (rather than $249).
100% Royalty-free.
One of the biggest deals on vstalarm.com
You will get 3 great VST instruments and 1 FX plugin by The Industry Kits and SuperstarO.
Would fit almost any modern genre.
Works On PC & MAC (Catalina OS As Well). 
Full Price : $249 
Sale Price : $24.95 
Savings : $224
Absolute no-brainer. For $24.95 you get 4 great quality plugins.
Plugins Included:
THE LAB 

STARLIGHT 

PUNCHER 808 Engive

RETROFLEX
"THE LAB" VSTi Is A Powerful  Plug-In Instrument Which Industry Kits Created With Producers In Mind.
You're Getting Top Quality Presets Out Of The Box , Over 150+ In Total.
But More Importantly , The Power To MULTI LAYER & Create Your Own Preset Sounds!
PRESET TYPES INCLUDED
Layered Presets 
808s 
Bells
Brass
Strings
Choirs
Synths
Plucks
Keys
Guitars
Flutes
Bass Synth
Leads
Pads & More! 
[ PC & MAC Full Support (Catalina OS As Well) ]

– LAYER & CREATE YOUR OWN PRESET SOUNDS – 
As You Can See In The Above Graph Layouts For "THE LAB" You Have Many Options To Work With.
– LAYER A & LAYER B Allow You To Select Different Samples To Use.
– You Also Have 2 Oscillators To Use To Layer More Sound Into The 2 Samples.
– OSC Voice Settings , MOD Envelopes , Effect Panels , Built In EQ & MANY More Tools.
(This VST Works For Any DAW That Can Use / Support VST or AU Plugins)

TAKE YOUR PRODUCTION SOUND TO ANOTHER 
GALAXY

 WITH 

STARLIGHT VSTi
We're Honored To Bring The Producer Community Another Instrument. One That Will Inspire Countless Studio Sessions.
StarLight Is Our First HAND CODED VST Instrument. We Made This One From Scratch , From  The Ground-Up Baby!
This New VST Has An Absolutely 
BEAUTIFUL

 Designed GUI Interface & With 

AMAZING

 Sound Selection Presets To Match. 
When You Open Up STARLIGHT In Your DAW You Will Feel Like You're In The CockPit Of A SpaceShip On Your Way To Another Galaxy. 
– THE STARS ARE WAITING FOR YOU –
STARLIGHT Works For Both PC/MAC (CATALINA As Well) & Comes With Simple Install Video Instructions For Both. 
PRESETS

 100 Come Stock Including Sound Types Such As…
KEY SOUNDS
SYNTHS
LEADS
FLUTES
STRINGS
ARPS
PADS
PLUCKS
BASS
808
GUITARS
PIANOS
& 

MUCH MORE
( VST Works w Any DAW That Can Use Plugins ) 
A BRAND NEW VST INSTRUMENT & OUR VERY FIRST TRUE SYNTHESIZER VST IS HERE!!
Introducing The "Puncher 808 Engine" VST. This Bad Boy Is A BEAST Of A Plug-In. 
What You Have Here Is A REAL Synthesizer VST Which Not Only Comes With Sick Bass Presets But Allows You To CREATE YOUR OWN Too. 
This VST Has Many Tools For You To Create Amazing Bass Presets From 808s To Subby Basslines & Low End Synth Patches. 
– CREATE YOUR OWN CRAZY BASS & 808s –
The VST Comes With 40 Presets Out The Box & We Include A VIDEO Demonstration On How To SOUND DESIGN Your Own Bass Presets In The Video Below. 
We Could Go On & On Here About This New VST But Just Watch The VIDEO Below For Full Info.  : ) 

( VST Works With Any DAW That Can Use PlugIns) 
VINTAGE SOUND MADE BETTER & SIMPLE
We're Excited To Bring The ProducerGANG An All New Effect Plug-In That We Have Been Working Hard On.
This New PlugIn Makes It Very Simple For You To Get That Vintage Sound In Your Productions With Little To No Effort & 

Experience

 Needed. 
Many Features To Tweak & 

Simple To Understand

 Knobs 
Comes With Amazing Presets To Start & Learn With
Stunning Vintage GUI w Moving Speaker & Vintage Tape
VHS , Equalizer , Effects & Noise Panels
Works On PC & MAC (Catalina OS As Well) 
– 
The Vintage Sound You Want , Made Easy

 –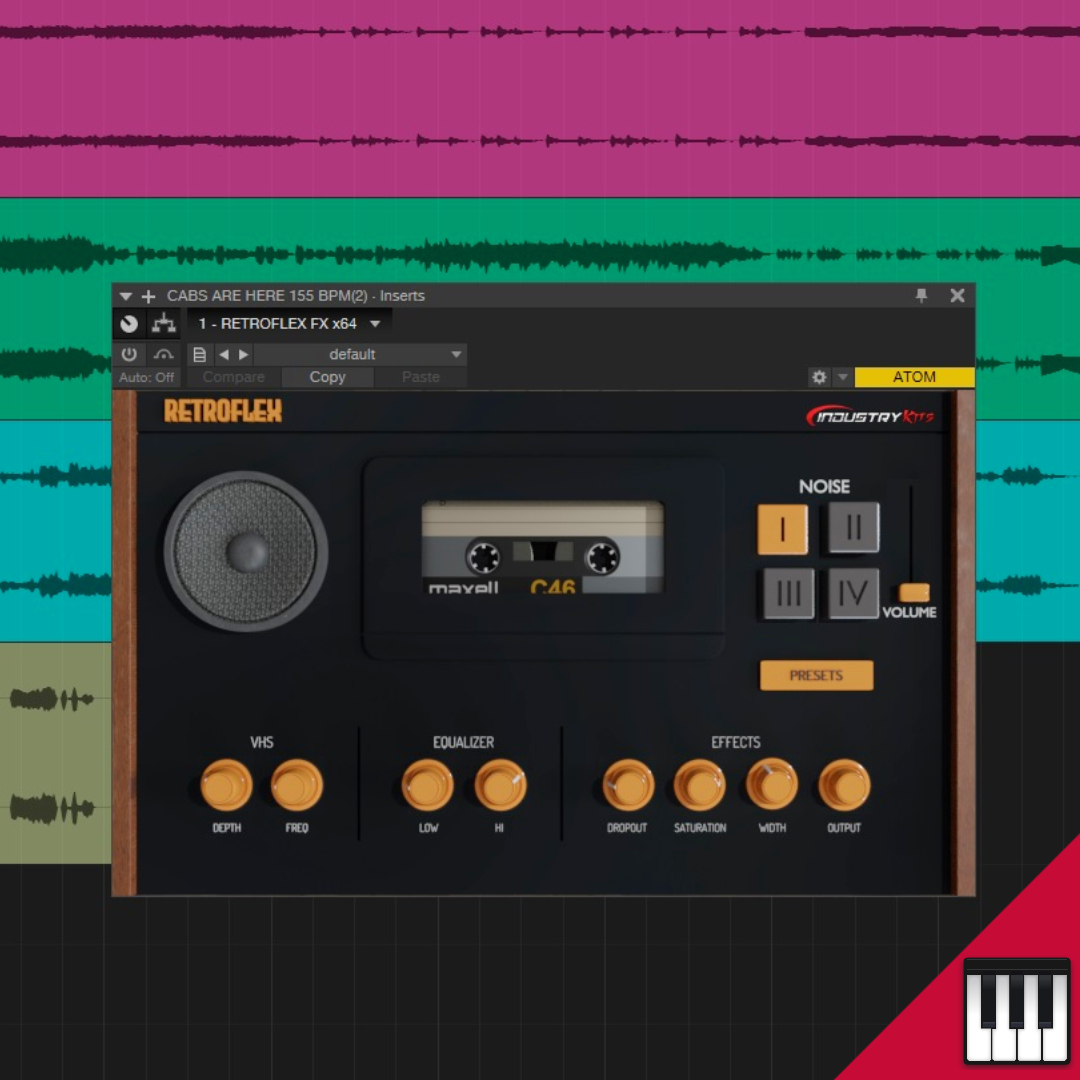 ( This PlugIn Works w Both PC & MAC ) 
• 4 Plugins
• Over 5.6 GB of samples
• Instant Download
• 100% Royalty-Free