EASTER DEAL 2.
92% OFF.
10-in-1 Bundle By The Industry Kits.
This is insane!
Crazy Good Sample Packs By Heavyweight Producer SuperstarO.
Multiple Genres

1224 WAV Files

1365 MIDI Files

6.9 GB

Vocals/MIDI/Melodies/Chords and so on…

INSTANT DOWNLOAD
You will get 10 great sample packs by The Industry Kits and SuperstarO.
Works On PC & MAC 
Full Price : $252 
Sale Price : $19.95 
Savings : $232
Absolute no-brainer. For $19.95 you get 10 hottest Industry Kits packs.
Packs Included:
1. "Land Of Anubis Sample Pack" $17
2. "Dream Walker Vocal Pack" $15
3. "Arabic Voices Vocal Pack" $17
4. "The Perfect Match Vol3" $40
5. "Gas Pack Producer Bundle" $50
6. "Wave Runner Sample Pack" $19
7. "The Perfect Match Vol2" $20
8. "Urban Chord Vault" $29.00
9. "Infinite MEGA MIDI Pack" $24.95
10. "Beat Block Killa" $20.00

SUPER FIRE NEW PRODUCER BUNDLE PACK
Ready For Some New Producer Heat? OooEee, Well Get Ready!
The GAS PACK BUNDLE Is A New Collection of Drums, Royalty Free Samples, One-Shots created w Analog & Hardware Gear, Drum Loops, Samples ran through Vintage Tape Gear & More.
Producers Get Ready To Lock-In, This Pack will have you Cookin!
– 100% ROYALTY FREE –
GAS PACK PRODUCER BUNDLE CONTAINS
| Pro Mixed DrumKit
| 808 & Kicks That SLAP
| Crispy Claps & Snares
| Percussion Chops
| Drum Loops + Perc Loops
| One-Shots From Hardware
| Royalty Free Samples
| Vintage Tape SamplesOVER 1.3GB IN SIZE
411 FILES
[ BEAT MADE USING ONLY GAS PACK ONE-SHOTS & DRUMS ]

ARABIC VOICES [Vocal Pack]
ARABIC VOCAL LOOPS & MELODIES  100% ROYALTY FREE 
We All Know Vocal Loops & Melodies Can Be Essential To Beats / Production But We're All Also Tired of The Same Played Out Ones Everyone Uses.
Here We Have For You A BEAUTIFUL & Creative Pack Of Vocal Loops, Samples, Melodies & One-Shots That You're Gonna LOVE Cooking Up with Guaranteed!

ARABIC VOICES PACK INCLUDES
  |  VOCAL SAMPLES (143)
  |  VOX ONE-SHOTS (30)
  |  STARTED SAMPLE IDEAS
  |  BPM + KEY INFO & ALL
 650MB IN SIZE! 

NEW SAMPLE PACK  FULL OF HEAT! 
The FULL VERSION Of WAVE RUNNER Is Here & Ready To CookUp!
The FREE Version Has Been Downloaded By THOUSANDS Of Producers & You All Have Been Cooking Up CRAZY With It. We Now Bring You The FULL VERSION Which Is That Same Quality But With The FULL PACK Experience & Many More Samples.
"WAVE RUNNER" Has A Dark / Motivational & Uplifting Sound To It's Sample Loops & Melodies.

WAVE RUNNER FULL VERSION INCLUDES
  | WAV + MP3 SAMPLES 
  | (230) WAV STEM FILES
  | (50) QUALITY SAMPLES
  | BPM INFO & ALL
 OVER 2.5GB IN SIZE! 
LAND OF ANUBIS [Sample Pack]

EGYPTIAN INSPIRED SAMPLES  100% ROYALTY FREE 
We've Created A Very Different & Inspiring Sample Pack Made With A Egyptian Sound.
Just By Checking Out The Audio DEMOS You Can Tell That This Pack Will Bring Some Inspiration For Your CookUps. This Pack Is DOPE & DIFFERENT! 
LAND OF ANUBIS PACK INCLUDES
  |  WAV + MP3 SAMPLES (64)
  |  WAV STEM FILES (105)
  |  EXTRA VERSIONS (18)
  |  BPM + KEY INFO & ALL
 1.2GB IN SIZE! 

THE PERFECT MATCH Vol2 [Kick & 808 Pack]

THAT 
SECRET

 KICK & 808 

SAUCE

 IS BACK
Any Producer That Has The Perfect Match V1 Knows It's One Of The BEST Kick & 808 Sample Packs Out There.
And So The Big Demand For A Vol.2 Brings Us Here! 
– – Introducing The BIGGER & Somehow Even BETTER "The Perfect Match" Vol.2 – – 
All Have Meticulously Engineered Kick & 808s Which Match PERFECT Together 
Short 808s , Long 808s , Distorted 808s , Clean 808s & MORE!
One Thing That Makes A Beat A Face Scruncher Is How The Kick & 808 Slap & Work Together.
Now You Get That Secret Sauce KNOCK Without Wasting Precious Studio Time On The Mix or Looking For The Rite Match!
CheckOut The VIDEO DEMO Below For More Info.
 WARNING!  MAY CAUSE ENDLESS HOURS IN THE STUDIO
As A Producer We All Know That Feeling You Get When The Beat Drops Just Perfect.
One Of The BIGGEST Factors In Making That Happen Is How The Kick & 808 Punch Hits & How It's Mixed / Working Together. 
– ONE OF THE BEST 808 & KICK PACKS TO DATE – 

– 
 THE KIT CONTAINS 

 –
 | 808 Drums w Built In Transient Punch That SLAP! (21)  
 | Sets Of Kick & 808 Drums Perfectly Mixed To Match (20)
 | That Means 20 Kicks & 41 808 Drums In Total, Mixed & Ready!


CHORD 
SAMPLES + MIDI

 ALL FIRE
Every Producer Needs Fire Samples, MIDI & New Ideas & This Has It All For You!

This Pack Contains 40 Chord Progression Samples WAV + The MIDI Pattern Files For Every WAV Sample As Well.
The Quality Of These Progressions & Samples Are Top Notch As You Can Hear From The Audio DEMOs Above. 
– 
Inspired By The Sound Of

 –
Roddy Rich
Maybach Music 
Soul Piano
Melodic Pads 
Kid Ink
RnB Smooth Chords
Epic Build Up Chords 
& So Much More!
SO MANY NEW IDEAS & CHORD PROGRESSIONS
BEAT BLOCK KILLA [BIG SAMPLE PACK]
BEAT BLOCK DOESN'T STAND A CHANCE!
We All Know How It Can Be To Get The Dreaded Beat Block.
We Bring You A BIG
 

Sample Pack w Nearly 50 Started Up Melodies / Samples For You To Dive Into. 
This Pack Was Made w A Lot Of 
Hardware / Analog Gear 

Such As Tape Machines, Synthesizers & Workstations Like The Prophet & Motif. 
–  MORE INFO ON THE PACK  –
Royalty Free 100% As Always 
Created w True Analog / Hardware Equipment
| 
Not Just The Typical Samples You Hear Everywhere 
The Sound Of Today & Tomorrow
VOX LOOPS / ONE-SHOTS & HARMONIES
By Now We All Know Vocal Chops In Your Beats Can Be A Huge Plus.
On The Flip Side, You Don't Want To Use The Same Vox THOUSANDS Of Other Producers Are Using. 
In This Pack We Give You Many Options & Also Even Wet / Dry Versions. 
From One-Shot Vocal Hits To Phrases / Harmonies & Vocal Melody Loops, You're Gonna Love This Vocal Pack.
High Quality Recording & Editing
  120+ SAMPLES  
High Quality Recorded Files
| 
Bring Your Projects To Life & Add Texture w These Vocals
| 
| Harmonies, One-Shots, Loops, Textures, Phrases & More!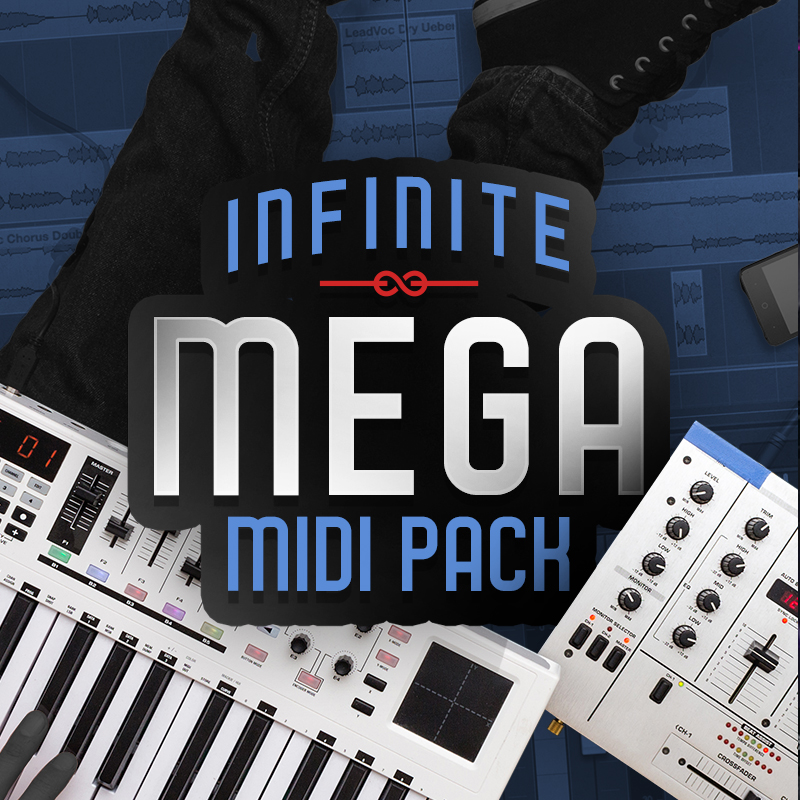 Our BIGGEST Midi Pack EVER Is Here & It's Wow Wow Wow 
BIG

. 

Introducing The Largest MIDI Pack We've Released To Date. This Baby Is Called Infinite For A REASON & That Is Because It's LOADED With

Over 1,000 Different MIDI Melodies / Loops / Layers & More.

MIDI Files Including For Melodies / Drums & All. Most MIDI Files Explain What Type Of Sound They Were Designed For Such As Lead / Drum / Snare / Piano / Keys & So On. 

If You Can't Get Inspiration & Dope Ideas Started Up From This Pack For YEARS To Come Then Something Is Wrong Over There LOL. 

Enjoy ; )

(All Files Are MIDI & Can Be Used With Any DAW Software)
Quentin
10/11/2021

808s are very powerful and sound good in large systems with subwoofers all the way to little blue tooth speakers. This is literally all I use. I have about 200 808 samples, and this kit is always my go to. What I like about these kits is that these samples are designed to be loud and have growl on the low bass notes. I can't stress enough how high quality this kit is. I would pay 100$ for this is, if that was the price.

    
JW LEGACY
16/03/2020

Incredibly fitting kick & 808s that knock hard and complement eachother well. You get both that good low-end from the 808 and that punch from the kick with this incredible pack! 100% recommend!

    
Franchise
13/12/2019

Having the right kick to sit with an 808 really used to be a problem for me. This fixed my problem. It's a cheat code honestly cause now I'm knockin beats out faster than ever. Highly recommend.

    
Petya
06/12/2019

At first I thought it's a marketing scheme. Ones I tried it out and actually put some effort in use .I thought man they sound great. I feel like 808 already been tuned so it's a plus

    
Two6sevenbeats
22/11/2019

Super dope pack these 808s and kicks fit perfect with eachother and hit hard would definitely recommend this pack to anyone to easily improve there kick and 808 relationship

    
BlxerdOut
22/11/2019

These 808's and Kicks are amazing. Definitely way easier to mix. This Kit is a must have!

    
Billy Cutlass
19/11/2019

Saves so much time and increases work flow. Able to finish tracks quickly for clients. These kicks and 808s do exactly what they say they do.

    
Jay_B
19/11/2019

This Pack is BANGIN right out the gate. 808's Thumpin & Kick's Punchin HARD, they definitely work well together. A must have for your beat making ARSENAL! Industrykits.com is a definite go to spot for my cookup needs.

    
NOX FATAL
18/11/2019

Totally worth buying. Big ups Mr. O!

    
CashLP
18/11/2019

This kit is nothing but fire! High Quality sounds no joke, O killed this one

    
JayWorst
18/11/2019

Ultra dope pack! I have v1 already, now v2 and i will have v3, v4, v5 …. etc. 4sure!

    
CisumMai
17/11/2019

This is Just What they Say it is… PerfectMatch!!! I'm about to purchase PerfectMatch Vol 1. The 808's n KICK's ARE TRULY A MATCH MADE IN HEAVEN!

    
Swampbanker
16/11/2019

Hands down the best bass & kick combo pack on the market!

    
Surflyf_chuck
16/11/2019

what I needed to keep the creative process flowing!

    
Chase Goodwin
15/11/2019

This is all you need to get your beats SLAPPIN. I mean it too.. The bass sounds so good without even tweaking it. If you looking for some HIGH quality bass.. look no further.

    
m8nkeyboi
30/08/2021

Great pack! Useful for demoing stuff

    
Billy BASH
11/05/2021

I haven't used anything but this since I bought it. Amazing

    
TTop Beatz
22/02/2021

Switching from mostly reddit drumkits to this has my 808s KNOCKING. Its seriously fire, I love this kit.

    
Marc Kouassi
20/01/2021

Didnt expect such high quality, i'm making beats with only kicks and 808s now

    
YUP
06/01/2021

YUP YUP YUP YUP YUP YUP YUP

    
Farrari Beats
27/12/2020

I've spent a ton of money on drum kits and I must say that this kit is worth it. Both the kicks and 808's are knocking and the kick and 808's sound very good together and are mixed very well. Makes the workflow a lot faster when trying to find the right 808 and kick samples that complement each other. You won't be disappointed.

    
JonTaY
11/12/2020

This pack is a bangggger just the charged kick alone is worth $30 spend the money mane will not disappoint!!!

    
@melodykingbeats
20/11/2020

Yo ya'll already know this pack is fye! I'm all stank faced in the studio with this one! #FutureTeamHitz

    
Weldon Claiborne
20/11/2020

Another banger from Industry Kits.

    
taariq
20/11/2020

just copped it a few days ago but after a quick run through (which end up being a cook up lol) it fit right in with 1 & 2 both have been my go to for kicks and 808's it has me using 808's more in my production and divvy into some modern trap and drill beats A1 fellas

    
Prof
20/11/2020

Not only does this kit slap, but it makes it so easy to find the right kick and 808 for my beats without having to sift through multiple packs just to find the right sample – it's all there in ONE. Nothing but high quality COMBOS in baby.

    
Hunter
20/11/2020

This is fire! Helped a lot, I can definitely tell the difference between free and premium beat packs. Thanks O!

    
LostBoi_Conti
20/11/2020

Haven't even copped this kit yet and I can already tell this kit is more than worth purchasing after seeing everyone going crazy on the beats with it. Def going to be getting this ASAP‼️

    
ChefKeys
20/11/2020

Got the Chef Approval

    
Moori Beats
20/11/2020

Love the sounds in this pack. Definitely a perfect match. 10/10 for me tho, can't lie this goes super hard.

    
Itzmac
20/11/2020

Yo! You trippin if you don't snatch that Perfect Match! I've made 5 bangers already! You can miss out if you want, I'm gonna keep leveling up!

    
Paradise
20/11/2020

The quality is awesome as expected, the kicks really go well together with the 808s.

If you suck at mixing kicks and 808s (I don't but I picked it up out of curiosity and I knew it would be fire) definitely pick this up as it could save you time and potentially your mix 🙂

    
Teddy.Productions320
20/11/2020

Y'all Claim U Were Ready For A New Perfect Match Kit …The Lie Detector Test Determined That Was A Lie..This Is Too Much Sauce For Y'all

    
MannyP30
20/11/2020

Let me tell you this, your speakers will be knocking! Whether it's in your car, studio, phone, headphones, etc. there will be thump

    
RydryBeats
20/11/2020

Fire! Not really much more you need, got all 808s for any kinda vibe you could go for. I like the matching kick and 808s makes it really helpful too

    
eSUN
20/11/2020

This pack is suppppppper legit! Nowhere else will you find such hard hitting, earth shattering, mind numbing kicks and 808s! And they really do match! Perfectly! Shout out to industrykits.com for such a crazy dope pack!

    
Elainerrrrrr
20/11/2020

Alright, if you know me, you know this is one of my favorite packs to use for my kicks and 808s in my beats. This is coming from a 14 year old producer, and if you follow me on instagram, you know that i've used this pack in my past like 3 beats i've posted. So everyone hop on the GOAT train and pick up this pack rn!

    
Pink Hair Producer
20/11/2020

Being so satisfied with the first 2 volumes of The Perfect Match, I absolutely had to pick up number 3. I expected the pack to be good, but had NO idea it would be this good! Out of the wide variety of high-quality samples, there's not one that has let me down. This is now my "go to" 808 kit. I highly recommend everyone get this kit NOW! Shout out to industry kits for never letting me down!

    
Nut Sack Official CEO
20/11/2020

Maaaaaannnnnnnn these 808's hit so hard my nuts dropped outta my zip and stayed there!

    
VillMatik
20/11/2020

This pack is fire, some of the hardest kick and 808 matches I've heard!

    
1. "Land Of Anubis Sample Pack" $17
2. "Dream Walker Vocal Pack" $15
3. "Arabic Voices Vocal Pack" $17
4. "The Perfect Match Vol3" $40
5. "Gas Pack Producer Bundle" $50
6. "Wave Runner Sample Pack" $19
7. "The Perfect Match Vol2" $20
8. "Urban Chord Vault" $29.00
9. "Infinite MEGA MIDI Pack" $24.95
10. "Beat Block Killa" $20.00
Multiple Genres

1224 WAV Files

1365 MIDI Files

6.9 GB

Vocals/MIDI/Melodies/Chords and so on…

• Instant Download
• 100% Royalty-Free