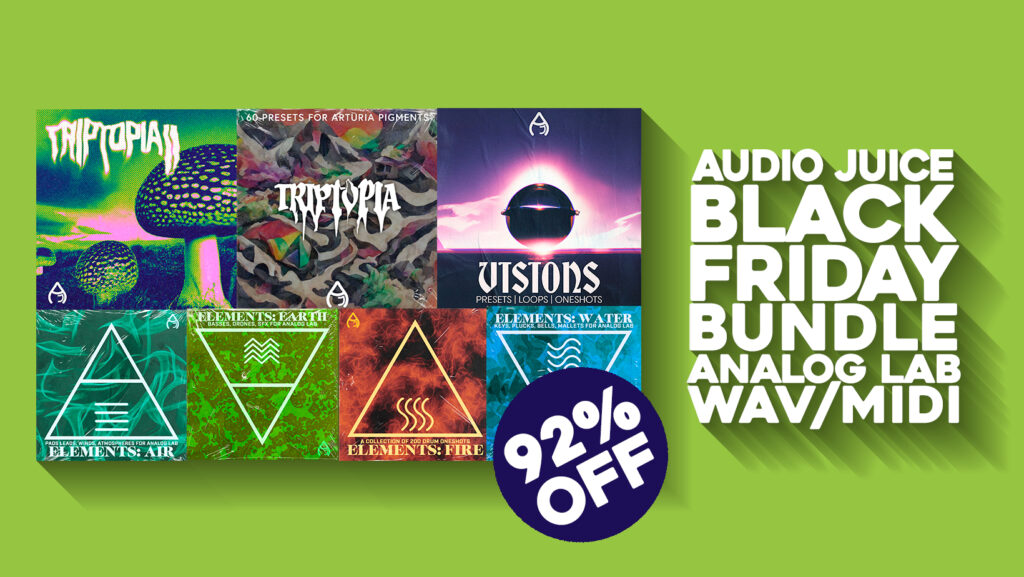 BLACK FRIDAY DEAL.
BY AUDIO JUICE.
Analog Lab V, WAV/MIDI
92% OFF.
420 ANALOG LAB V PRESETS

60 CHORD PROGRESSIONS

727 WAV FILES (Melodies/Drum Kits/One Shots)
Lo-Fi/Indie/Trap/Hip-Hop/Rnb
Inspired by Travis Scott, 6LACK, Don Toliver, Jhene Aiko, SoFaygo, Summer Walker and more!
Full Price : $240 ,
Sale Price : $19.95 
Savings : $220
10
days
04
hours
06
minutes
54
seconds
TRIPTOPIA is our craziest kit to date. A collection of wavy, psychedelic and atmospheric sounds for Arturia Pigments that will transport your melodies to new dimensions and elevate your music. With spacey keys, ambient pads, arps, winds and much more, this pack contains everything you need to bring your listeners into your world of music. Inspired by the sounds of artists like Travis Scott, 6LACK, Don Toliver and Jhene Aiko, it's the perfect addition to any trap or R&B producers collection, but every preset has a ton of potential in many genres.
Also included are the melodies used in the demos, as well as a bonus drum kit, and all the wav oneshots created for the kit for you to use in any plugin or as they come.
This bank is provided as a Pigments bank (.pgtx) but also as an Analog Lab bank (.labx) so you can use it even if you own Analog Lab but not Pigments. (and of course you can use it if you just own Pigments!)
Full Breakdown
5 Basses
1 Brass
4 Flutes
6 Bells
3 Mallets
11 Keys
3 Leads
8 Pads
2 Drones
5 Soundscapes
7 Arps
5 Strings
82 Melodic One Shots
4 Wavetables
Bonus Drum Kit with 45 drum one shots and loops
3 Melody Samples
Please note that Arturia Pigments or Arturia Analog Lab is required to use this bank
Presenting TRIPTOPIA II, the long awaited sequel to one of the most popular Audio Juice Kits. Featuring 60 ambient and psychedlic presets for Arturia Pigments, this bank has been a year in the making!
Taking inspiration from the works of artists like Travis Scott, 6LACK and Don Toliver, along with other genres like psybient, this pack is perfect for producers who want to create wavy sonics and take their listeners to another dimension!

Alongside the presets, the kit also comes with over 60 melodic oneshots (including multisampled variations) and a bonus drum kit!
The bank is provided in Pigments format (.pgtx) and Analog Lab V format (.labx) so you can use it if you own either Arturia's flagship plugins!

Full Breakdown
14 Pads
13 Keys
6 Basses
6 Soundscapes
5 Bells/Mallets
4 Arps
3 Atmos/Drones
3 Leads
3 Plucked Strings
3 Winds
64 Melodic Oneshots
Bonus Drum Kit
Presenting VISIONS: a multikit boasting our largest and best collection of sounds to date. Contained within are all the tools you need to create out of this world melodies with the wavy, psychedelic sound the permeates so much of contemporary R&B and hiphop.

With 2 Analog Lab banks, Oneshots, Accents, Perc Loops and more, this pack is a must have for every sample maker and producer, providing you with the sonics required to effortlessly create atmospheric and evocative music, that will truly show your listeners your vision.

Full Breakdown
2 Analog Lab Banks totalling 120 Presets
77 Melodic Oneshots
175 Accent Oneshots
60 Perc Loops


Bonuses

60 Chord Progressions
A Mini DrumKit
4 "Perc Mixups" (For use in samplers, 32 Percs in each file)
3 Bonus Demo Samples
Presenting THE ELEMENTS COLLECTION: A bundle of 3 Analog Lab banks and a drum kit to take your music to crazy new heights!

Featured in the collection is:

Elements: WATER – A collection of 60 keys, plucks, bells, mallets and more for Analog Lab, perfect for creating captivating melodies. ($30 Value)
Elements: AIR – A collection of 60 pads, leads, winds, and atmospheric elements for Analog Lab to add even more depth and vibe to your music. ($30 Value)
Elements: EARTH – A collection of 60 basses, drones and FX for Analog Lab to act as the ground work of your sonic universe. ($30 Value)
Elements: FIRE – 200 drum oneshots for all your rhythmic needs ($30 Value)

Whatever your musical needs are, this bundle has you covered!

Please note that Arturia Analog Lab V is required to use this bank
never dissapoints!
Every new kit you drop gets better and better, more value for money , feels personal, I would recommend this and any of these kits and banks to any serious producer/beatmaker.
420 ANALOG LAB V PRESETS

60 CHORD PROGRESSIONS

727 WAV FILES (Melodies/Drum Kits/One Shots)

Instant Download
Software Requirements:
Analog Lab V
10
days
04
hours
06
minutes
54
seconds